So, the weekend before last was quite busy. Rita and Paul visited.
Rita is a huge foodie, so Chris and I dragged the two of them to the Pizza Hacker, where I had a spicy cherry tomato pizza.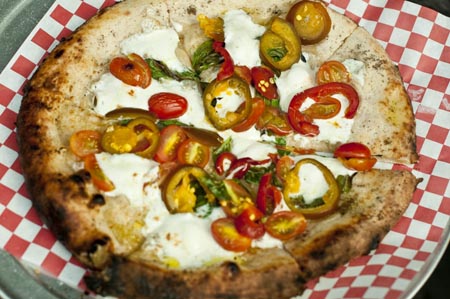 The Pizza Hacker can only be found through his Twitter feed. He is known for his super fresh ingredients and his specially modified oven dubbed the "Franken-Weber". The Franken-Weber is a Weber grill with a molted fire brick top and lined on the inside with fire brick. They fill it with wood chips, making a near 900 degree fire. It only takes 3 minutes to cook the pizza, creating a crust that is both crispy on the outside and moist on the inside.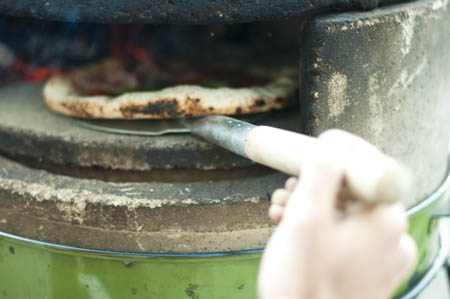 I then dragged Rita and Paul to our local high-end food store. After visiting Bi-Rite, Rita joked it was as if she had never seen fresh produce before. Rita and Paul live in Hawaii, where there is a preponderance of fantastic pineapple, papaya, and avocados, but no decent rhubarb, raspberries, or strawberries. After purchasing a ridiculous amount of produce, she came back to make a rhubarb pie.
Our quickly thrown together pie recipe was:
The crust: http://simplyrecipes.com/recipes/perfect_pie_crust/
Apparently Rita often replaces ice water with ice cold vodka and this can make a very nice, flaky crust.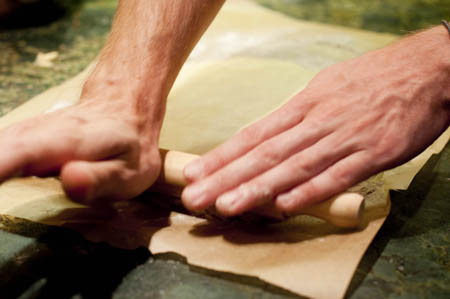 The filling, as per Rita:
I cut several stalks of rhubarb into 1/4" chunks, for a total of around 4 cups. I mixed into another bowl 1 egg, 1/2c white sugar, 1/4c light brown sugar, 6T flour, juice of half a meyer lemon, and a couple of Tbsp. of Amaretto. I then poured it over the rhubarb, and mixed it all together. Into the bottom crust, which was rolled to about 3-4mm thick, and dotted with a Tbsp. or 2 of butter. The top crust got woven over the top, and an edge added and fluted at the end. It got baked at 450F for 15 minutes, and then 375 for another 30-40. Watch it close at the end, and cover edges with foil if they brown too fast.
We put the filling in the pie and started the lattice work on the top. Well, they did. As you can see, I was too busy taking photos to help in the kitchen.
It was then that I discovered Paul was OCD. He carefully rolled out the dough, cut the dough into long strips with a pizza roller, and started delicately putting together the most beautiful pie I had ever seen. That's not an exaggeration. It was the most micro-managed piece of pie art I ever expect to encounter.
I also discovered I had been doing lattice work wrong. Paul had a very good method of flipping back every other strip in order to place a new strip. I had just been doing a messy conglomeration of interweaving best not explained.
In addition to OCD, Paul may have other as-yet undiscovered quirks.
We all celebrated the marvellous art pie by eating it.
Well, some of us did. Some of us were forced to drink water due to an unfortunate cheese grater incident the last time we visited.